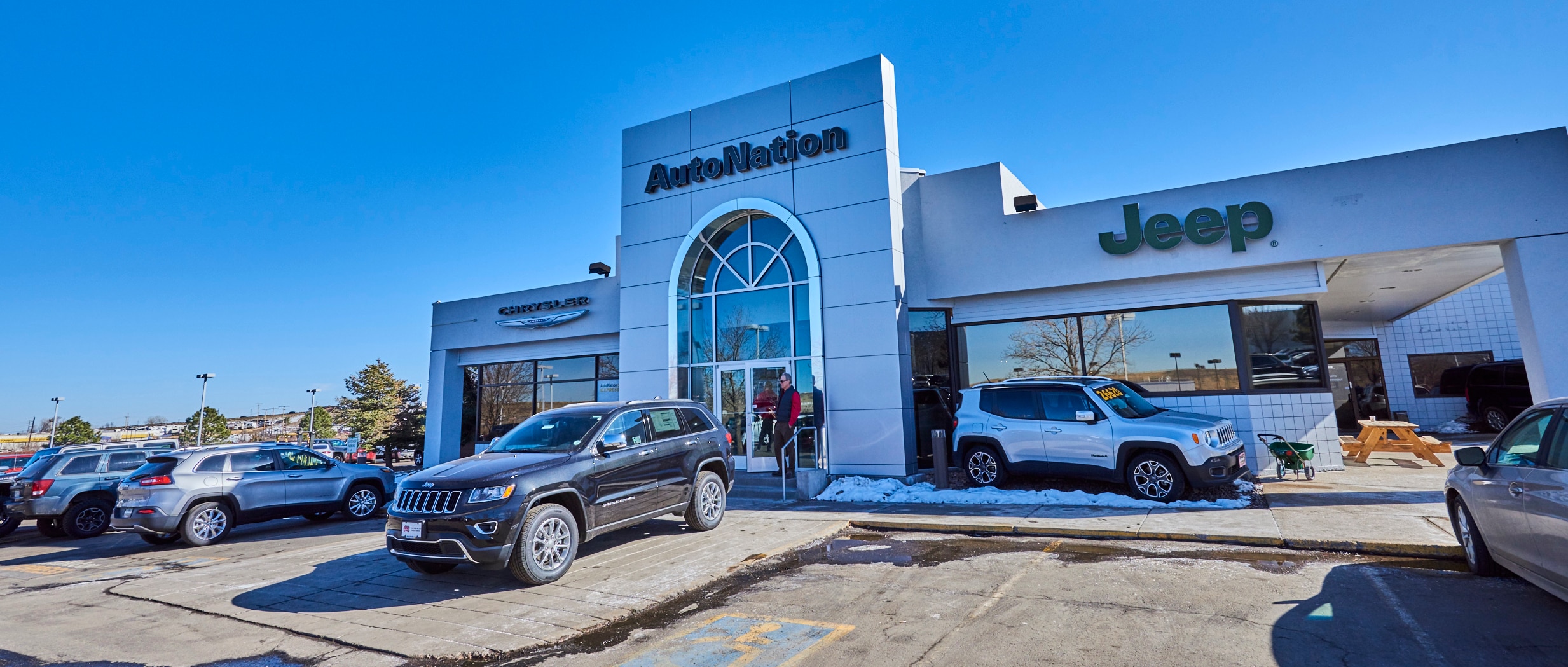 The Chrysler Jeep Dealership Committed To You


Autonation Chrysler Jeep West is a Chrysler Jeep dealership near you that ensures that you, as a client, are our first priority. Buying new, buying used, leasing, or maintaining a Chrysler or Jeep is as important an event to you as it is to us. We value your time and your patronage and we strive to reduce stress and hassle everywhere we can. Autonation Chrysler Jeep West caters to your vehicle needs, whatever they may be. In addition to Golden, we also serve the following communities: Denver, Lakewood, Westminster, and Arvada.
Our quality pre-owned vehicles are perfectly priced, so there is no haggling or back-and-forth. No pressure. Plus, you can be certain that our haggle-free price is low ... because it's Guaranteed. Bonus: our used cars are rigorously checked and Worry-Free. Click here to learn more about our 1Price Pre-Owned Vehicle formula and the many other benefits that AutoNation dealerships offer.
AtAutonation Chrysler Jeep West, our Golden, CO community is very important to us, and we enjoy serving the people who make up our city. We take pride in serving Golden, CO residents, and we work to be not only a trustworthy Chrysler and Jeep dealership, but also an innovative and respectful business center. We appreciate our patrons as much as we do our Golden, CO employees.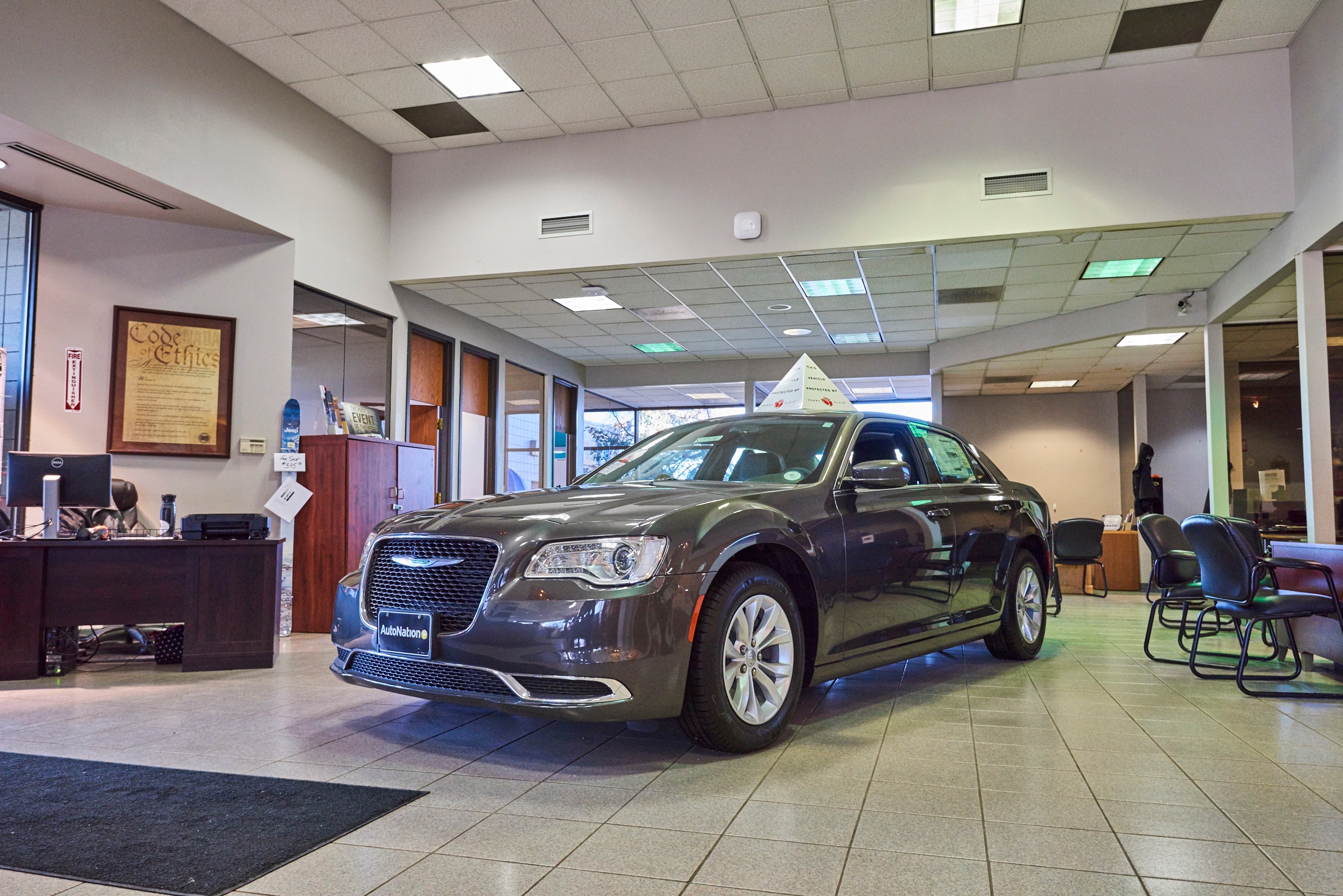 Our dealership is designed to make you feel at home. Your needs are attended to not only while viewing vehicles but also while you wait. Clean and comfortable accommodations await you at Autonation Chrysler Jeep West, and well-organized lots make it easy to find the car you're looking for. The car-buying process is an adventure that beckons, and Autonation Chrysler Jeep West makes it our goal to preserve that adventure.
Your new, used, or leased Chrysler or Jeep is an important investment in your life. That investment is valued, understood, and guarded by Autonation Chrysler Jeep West. At Autonation Chrysler Jeep West, spend as much time as you need to researchand discuss the vehicle of your dreams. There's a very good chance we have the Chrysler or Jeep that you're in search of, and we're committed to getting you behind its wheel.
Autonation Chrysler Jeep West Recognized as a CARFAX Top-Rated Dealer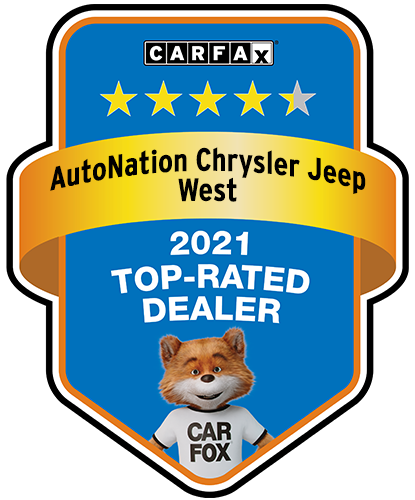 Autonation Chrysler Jeep West is being honored in the second annual CARFAX Top-Rated Dealer Program. The 2021 CARFAX Top-Rated Dealers received an average of 4.6 stars out of a possible five stars. The select group of dealers are being celebrated for their commitment to building consumer confidence through exceptional service and customer care.
"CARFAX has more than 2.2 million verified customer ratings and reviews for dealerships around the country," said Bill Eager, CARFAX Vice President of Dealer Business. "The Top-Rated Dealer program recognizes the best of the best for exceptional service and customer care."
"We at Autonation Chrysler Jeep West are incredibly proud to have earned this CARFAX Top-Rated Dealer recognition. It is a direct reflection of our commitment to provide the best experience possible to every customer we serve. From all of our team members, Thank You for making this possible!"
You can look for Autonation Chrysler Jeep West 2021 CARFAX Top-Rated Dealer badge on the CARFAX Vehicle History Reports they provide customers.
About CARFAX
CARFAX, part of IHS Markit (NYSE: INFO), helps millions of people every day confidently shop, buy, service and sell used cars with innovative solutions powered by CARFAX vehicle history information. The expert in vehicle history since 1984, CARFAX provides exclusive services like CARFAX Used Car Listings, CARFAX Car Care, CARFAX History-Based Value and the flagship CARFAX® Vehicle History Report™ to consumers and the automotive industry. CARFAX owns the world's largest vehicle history database and is nationally recognized as a top workplace by The Washington Post and Glassdoor.com. Shop, Buy, Service, Sell - Show me the CARFAX™. Based in London, IHS Markit is a world leader in critical information, analytics and solutions.